As the cooler weather rolls in, fire pits because great additions to any home by giving the homeowners a chance to enjoy the outdoors beyond the warmer months. It very important to build a fire pit with the right materials that can handle the fires you want to build in it.
Tips For Building the Right Kind of Fire Pit for Your Yard
Firebricks – Firebricks should be placed on the inside of fire pits to absorb and withstand the heat of the fire. Firebricks are heavy clay bricks and can come in many shapes and sizes.
Fire Mortar – Fire proof mortar is made specifically to help resist fire and heat damage, making it the perfect material to use alongside fire bricks.
Outside Design Elements – Stone works well for fire pits as they tend to blend in with the surrounding areas.. Stone are also non-combustible like bricks and concrete. Avoid any material that is combustible or that can reach high temperatures. Flagstone allow you to design a fire pit that is both safe and aesthetically pleasing.
Outer Image can design and build a great outdoor living space and fire pit for your family and friends to enjoy all winter long.
Contact us (859-689-0076) for a free consultation!
—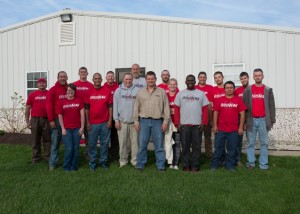 About Outer Image Outdoor Services
Outer Image Outdoor Services provides residential and commercial landscaping services to the Northern Kentucky & Greater Cincinnati Area and has more than 20+ years of experience. We provide prompt and thorough service to our customers and treat them like neighbors!
>> Learn More