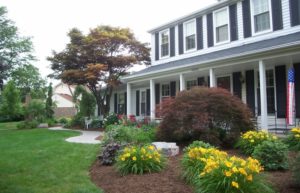 First impressions are so important. You want that guests or potential buyer to pull into the drive way and think "WOW" I love the way this home looks! Proper landscaping goes a long way with how your home looks from the curb and impresses potential buyers. It shows you take good care of your property. The following are just a few tips on how to make your landscaping looking its best without spending lots of money!…
Your Landscaping Must Look Maintained
A little bit of yard maintenance goes a long way. Keep these three words in mind… 1) mow 2) trim and 3) cut. If you are too busy to maintain your lawn and landscaping then you will need to hire a landscaping company. Be sure the yard is neat and tidy. Have all the toys and trash cans and garden tool out of sight. Also remove all dead or dying shrubs and perennials.
Add some color
During the summer, plant some annuals such as begonia or inpatients because they thrive in the hot weather and are pleasing, practical and valuable for your landscaping. During the cooler temperatures have some ornamental cabbage, pansies, or mums offer. They offer a whole new world of color during the cooler months.
Landscaping Borders and Edging
Lawn edging gives your lawn a clean manicured appearance while increasing curb appeal. It adds value to your landscape without spending a lot of money and saves trimming time. It also provides a root barrier to prevent invasive lawn grasses from entering garden or other areas. Borders and edging keep your landscaping neat and well kept. Landscaping professionals outline the border with landscape chalk and use tools to chip away any encroaching lawn so that there is a well defined area. After the edging is completed, they add the mulch to those areas to refine the look.
Water your plants and Lawn
Many people think you need to water your plants every day to keep them healthy, but that just isn't true. Give your plants at least 1 inch of water during a weekly watering. If it rained recently, you can water even less. The key to watering once a week is to water "deep." This means watering slowly so it has a chance to sink in to the ground instead of running off or evaporating. Deep watering also encourages root growth and makes plants more resilient in high temperatures. If you have sprinklers and irrigation, be sure your sprinkler system and timers are in good working order or have your landscaper take a look.
Lighting
Consider adding some landscape lighting to boost curb appeal in the evening. Accent lighting that highlights landscape features and solar path lighting are both simple ways to to add Pizzazz to the yard.
Leave it to the Pros at Outer Image Outdoor Services to help you with your landscaping.
Contact us (859-689-0076) for a free consultation!
—
About Us
Outer Image Outdoor Services provides residential and commercial landscaping services to the Northern Kentucky & Greater Cincinnati Area and has more than 20+ years of experience. We provide prompt and thorough service to our customers and treat them like neighbors!
A full-service residential and commercial outdoor services company specializing in…
Some Examples…